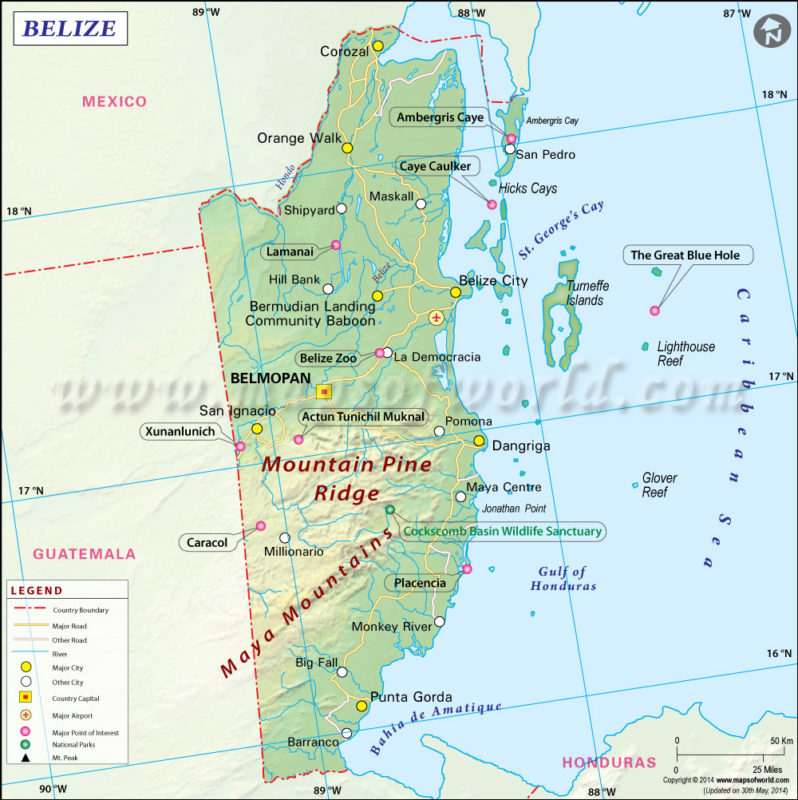 Geography
Belize is located in Central America and it is bordered to the north by Mexico, to the south and west by Guatemala and to the east by the Caribbean Sea. We have the lowest population density in Central America with 35 people per square mile (14 per square kilometer). With a total area of 8,867 square miles, Belize has two categories of protected areas including parks, reserves, animal sanctuary, and 40 acres of marine reserves.
Belize's distinct ecosystems are part of the biodiversity hotspot within the Mesoamerican environmental corridor. The varied terrain includes rich mangrove coastal plains, the thriving 185-mile Belize Barrier Reef, the luch Maya Mountains, and the largest cave system in Central America.
Some species of Belize's flora and fauna include the national symbols: the black orchid, the mahogany tree, the toucan, and the tapir (aka "mountain cow").
History
The first people to develop Belize were the Maya around 1500 B.C.E. and their legacy remains intact today. The first European contact with Belize occurred in 1502 when Christopher Columbus reached the area's coast. In 1638, the first European settlement was established by England and slaves from Africa were brought to the country in the early 1700s. During the early 1800s, Garinagu settlers arrived in Belize from Honduras after previously being exiled by the British from St Vincent. In 1862, Belize (then called British Honduras) became a British colony, achieving full self government with a ministerial system in 1964. In 1973, the region's name was changed from British Honduras to Belize and on September 21, 1981, full independence was achieved.
Language
Belize is the only English language-speaking country in Central America, although Kriol is the language that is largely spoken at home by Belizeans (Belizean Kriol is English based with strong influence from a variety of African languages). Nearly all Belizeans are at least bilingual, with many speaking three or more languages fluently. Other widely spoken languages include Spanish, Maya (Kekchi, Yucatec and Mopan) and Garifuna, but you may also hear German & Mandarin!
People
Belize is truly a melting pot of colorful cultures, with the population of 370,000 people made up of Maya, Mestizo, Kriol, Garifuna, East Indian, Mennonite, Arab and Chinese. There also are a number of expatriates in Belize, mainly from Canada, Europe and the United States – and many of them retire here. A blending of cultures has resulted in one of the happiest and most peaceful countries in the region and a widespread reputation as one of the world's friendliest tourist destination. You will truly find some of the nicest, most welcoming people in Belize!